WELCOME to AIRSHIP 27's PDF Hangar:
Where adventure takes flight! Here at HANGAR 27 we are dedicated to bringing you the finest pulp action novels and anthologies by today's new pulp scribes directly to you in the universal PDF format. Read the best in today's Pulp Fiction on your Kindle or iPad or any other device that reads Adobe PDF files. For some devices pdf requires Adobe Acrobat reader available free at this link: http://get.adobe.com/reader/otherversions/
Buy your book today, download and read it today for the lowest price available of only $3.00! Airship 27 also has available regular print copies at Amazon.com and from Createspace's "Print On Demand" e-store. Watch this space as we add more of our catalogue to this great service. And as possible Kindle versions will be added. Check each book entry for details or email the webmaster with requests at: Rob Davis.
So buckle up tight, cast your eyes to the clouds and get ready for lots of pulse pounding thrills.

***IF YOU HAVE ANY PROBLEMS, QUESTIONS OR YOUR DOWNLOAD EMAIL DOES NOT APPEAR AUTOMATICALLY PLEASE E-MAIL THE WEBMASTER BY CLICKING ON THE FOLLOWING LINK: Rob Davis***

Scroll down to see covers and descriptions and to order our pdfs! Books are grouped together by character or series with most recent releases first. Books/Series are listed and linked alphabetically in the column to the left. Thanks for shopping with us today!
Ron Fortier Editor in Chief & Rob Davis Art Director
To sign up for the Airship 27 "E-Blast" newsletter contact Promotions Manager MICHAEL VANCE.

***************************************************
From the pages of the classic pulps comes the most frightening avenger of them all, the Purple Scar!
The handsome, debonair Dr. Miles Murdoch was a world famous plastic surgeon. His life was the stuff of dreams until it all turned into a heart-wrenching nightmare. Murdoch's brother, a dedicated police officer, is brutally gunned down while on patrol. Before dumping his body into the river, his murderers pour acid over his face as a final act of contempt. When the body washes ashore days later, Officer Murdoch's face is beyond recognition, a scarred, purple visage unlike any horror ever imagined.
It is the sight of this death grimace that transforms Miles Murdoch into an avenging angel. Vowing to bring justice to those responsible, the skilled surgeon molds a pliable rubber mask from that repulsive, mutilated face; a mask he dons to become the Purple Scar, the scourge of crooks and villains everywhere. He has become the physical embodiment of their worst fears brought to fiendish life.
---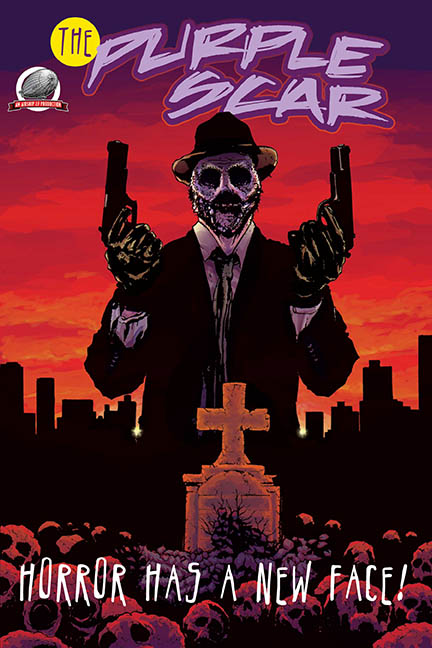 SATAN ON THE STUMP
By Jim Beard
The Purple Scar confronts a crooked politician willing to commit any crime to gain power.

THE PURPLE SCAR'S REVENGE
By Jonathan Fisher
Someone has started a gang war and it's up to the Purple Scar to find the instigator and save his city
before it all becomes a blood-bath.

LIQUID DEATH
By Gene Moyers
Drugs are disappearing from hospital inventories and finding their way to a Black Market operation
in Akelton. The Purple Scar must find the mastermind behind the scheme.

THE MURDER SYNDICATE
By Gary Lovisi
The Purple Scar hunts a cold blooded murder-for-hire gang.
Createspace: Purple Scar
Kindle Link: Purple Scar
Amazon Link: Purple Scar
Available as a PDF for just $3.00 by clicking the button below.
===
Mobile Alabama in the early 1920s is a hot-house of history, tradition, political corruption and racial bigotry. Amidst this landscape of both grandeur and depravity arises a new avenger to battle the forces of evil and injustice. He is the mysterious Bay Phantom, a dark clad warrior willing to mete out justice with his blazing .45s. But beneath this flamboyant mask is the often inept, naïve Joseph Perrone, heir to a commercial fisheries empire.  
 
Perrone's one amazing asset is his partner, the beautiful Mirabelle Darcy, a young black woman with the ninth highest I.Q. in the world. An engineering genius, it is Mirabelle who provides Perrone with the guidance to see him through the deadly and macabre challenges that await them.
===
The Bay Phantom Volume One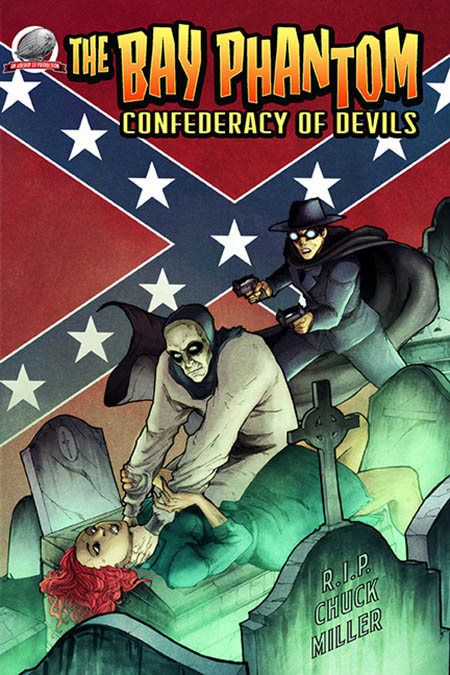 A secret Crime Lord is attempting to take over the city and has unleashed a blood-thirsty Werewolf and a bizarre assassin known as the Black Embalmer to carry out his insidious plans. 
 
Now it is up to Mirabelle and the Bay Phantom to save their city with the help of an Austrian doctor named Sigmund Freud. And that's only the beginning!
Createspace: The Bay Phantom
Kindle Link: The Bay Phantom
Amazon Link: COMING SOON
Available as a PDF for just $3.00 by clicking the button below.
===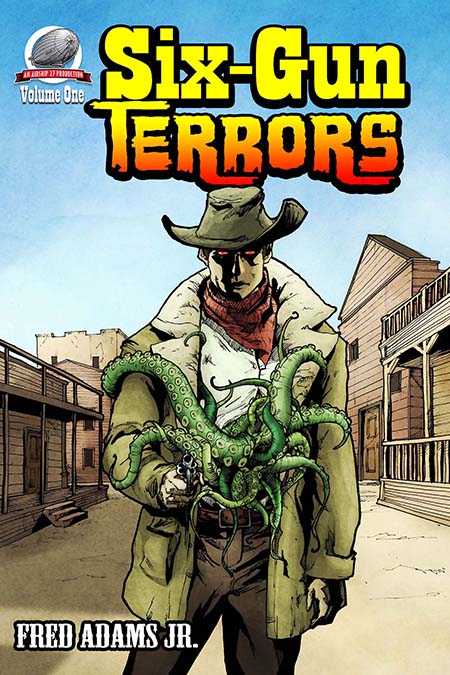 TERROR ON THE PLAINS
Former Union scouts and saddle tramps Durken and McAfee are more than satisfied with their lives as cattle-punchers for Homer Eldridge and his Triple Six ranch. When a mysterious, black clad preacher arrives in town leading a congregation of dwarfish foreigners, strange things begin to happen. First cattle from various spreads are found savagely butchered out on the range for no apparent reason. Then several Triple Six hands go missing.
McAfee begins to suspects there is something very sinister about the new reverend and his people. Something that will bring more horror and destruction with it.
Writer Fred Adams, Jr. spins a weird western tale that will have readers on their edge of their seats and jumping at shadows. Mixing a heady brew that is half H.P. Lovecraft and half Louis L'Amour, SIX-GUN TERRORS is a creepy adventure not soon forgotten.
Createspace: Six-Gun Terrors
Kindle Link: Six-Gun Terrors
Amazon Link: Six-Gun Terrors
Available as a PDF for just $3.00 by clicking the button below.
====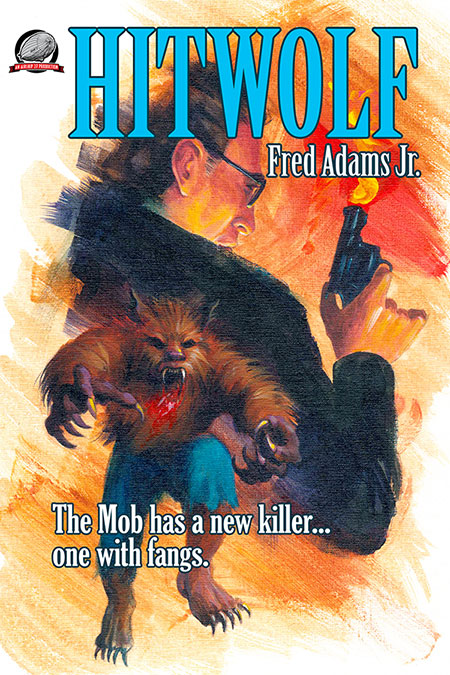 HOWL OF THE WOLF 
 
It is 1969; Newark, N.J. Former Green Beret Jim Slate comes home from Vietnam to live a quiet, peaceful life. His wish is cruelly denied him when he is kidnapped by Michael Monzo, a local gang boss who wants to rule the entire city. To do this he must bring down his rivals.  
 
Monzo recruits an occult practioner who can turn an ordinary man into a vicious werewolf and then control his actions by the use of a magic amulet. But to carry out this heinous plan, he needs a subject. And so Jim Slate is snatched and turned into a "Hitwolf." 
 
But Slate is no one's puppet and, despite the curse put on him, he will not be controlled. After he manages to escape his master, Slate disappears into the thousands of acres of New Jersey woodlands known as the Pine Barrens. But Monzo has no intentions of losing his pet killing machine. Now the manhunt begins to capture Jim Slate…dead or alive!
Createspace: HITWOLF
Kindle Link: HITWOLF
Amazon Link: HITWOLF
Available as a PDF for just $3.00 by clicking the button below.
====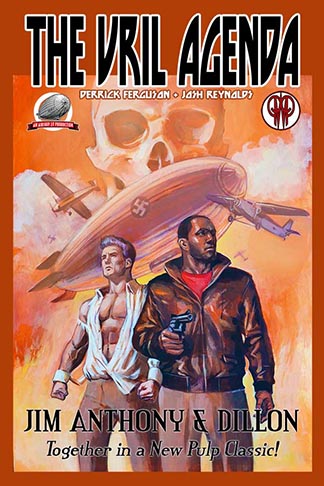 Two Legendary Heroes 
Come Together to Defeat 
THE VRIL AGENDA 
 
Upon completing his training with the Warmasters of Shamballah, Dillon journeys back to America to begin the next phase of his training under tutelage of one of the greatest adventurers of all time, Jim Anthony – The Super Detective. But no sooner do they meet then one of Anthony's most dangerous villains resurface from his past to once again threaten mankind, the superhuman Sun Koh – Prince of Atlantis. 
 
Now the old warrior and his young student, aided by Anthony's loyal family and allies, will take on this new threat, pitting their lives against powerful adversaries. From New York to Berlin and then on to a hidden civilization at the bottom of the world, the Super Detective and his two-fisted protégé must stop the fiendish Sun Koh before he can unlock the ages old secret of the Vril power. 
 
Writers Josh Reynold and Derrick Ferguson have whipped up a frenetically paced tale that never lets up for a second, masterfully delivering old fashioned pulp action in what is sure to become a New Pulp Classic! 
 
AN AIRSHIP 27 PRODUCTION / PULP WORK PRESS EVENT!
Createspace POD Link: The Vril Agenda
Kindle Link: The Vril Agenda
Amazon Link: The Vril Agenda
Available as a PDF for just $3.00 by clicking the button below.
•••••••••••••••••••••••••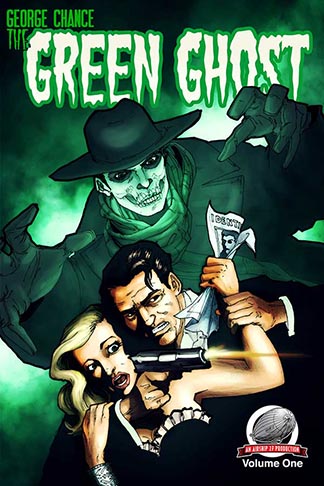 Former stage magician George Chance, by various twists of fate, becomes an eerie vigilante to help the police solve baffling, unique mysteries. He is aided by his loyal crew made up of former glamour girl, Merry White, circus little man, Tiny Tim Terry, former bookmaker and gambler Joe Harper and Glenn Saunders, a novice magician who is his identical double. Created by writer G.T. Fleming-Roberts, the Green Ghost and his team battled all manner of villainy in some of the most macabre pulp adventures ever recorded. Now Chance & Company are back in four brand new tales as chronicled by a quartet of today's finest New Pulp writers; Michael Panush, Greg Hatcher, B.C. Bell and Erwin K. Roberts. In these pages the Green Ghost will face a giant mechanical monster on a long abandoned boardwalk, attempt to solve the murder of his old mentor and uncover a ring of foreign saboteurs using radio frequencies to carry out their missions of terror and destruction. Here are pulp thrills and spills showcasing one of the most original classic pulp heroes ever invented. Brought to you by Airship 27 Productions, the new home of High Adventure.
Createspace POD Link: Green Ghost
Kindle Link: Green Ghost
Amazon Link: Green Ghost
Available as a PDF for just $3.00 by clicking the button below.
==========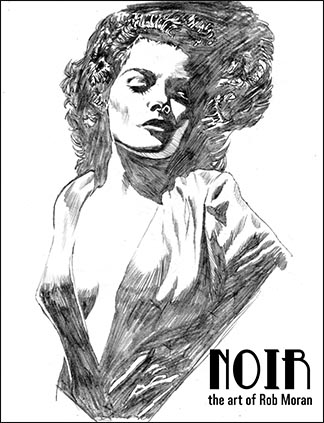 Airship 27 Productions' first Art book!
Rob Moran is an award-winning artist of Noir-inspired, black and white illustrations. Here is a book of some of his best work, pencil and fully inked, in a genre he defines with every stroke of his pencil or pen. Printed in 8 1/2 x 11 format to really show off the line work and detail. This book will only be available in print form. PDF or Kindle just won't do it justice.
Amazon: NOIR
Createspace: NOIR
=============================
Our FIRST Digital Only book:
"The Wind Up Kid"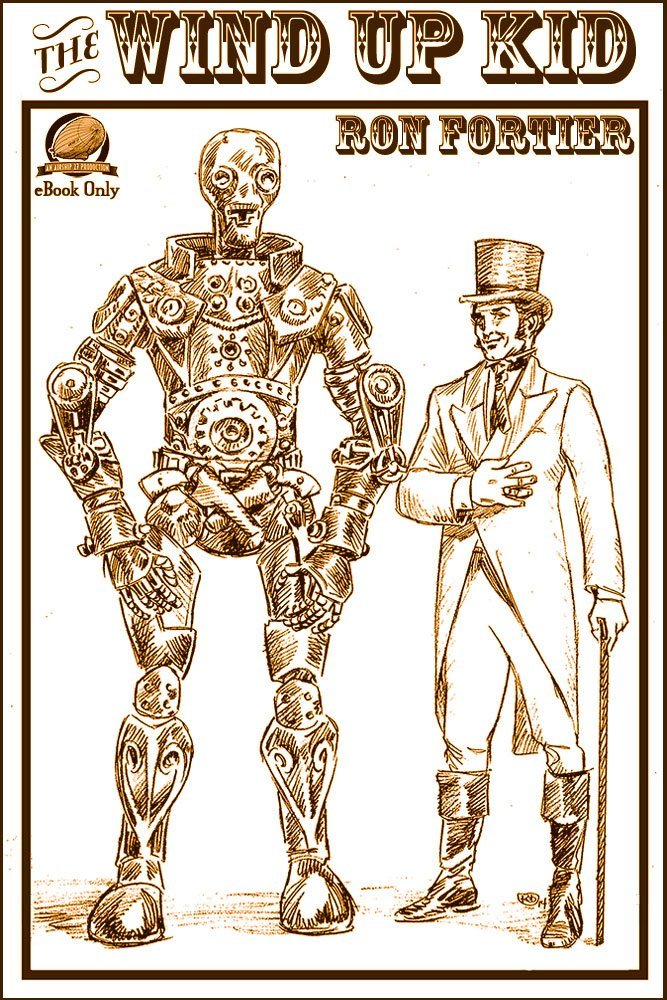 TROUBLE IN SANDY CREEK

When Butch Faro's gang of merciless killers threatens the sleepy Texas town of Sandy Creek, it will take the performers of Professor Phineas Proctor's traveling circus, their golden hued robot-gunfighter and a brave Mexican blacksmith to thwart their plans and save the town.

Award winning New Pulp Writer, Ron Fortier, delivers a unique, fast-paced weird western like nothing you've ever read before.

Airship 27 Production – Pulp Fiction for a New Generation!
Kindle only: http://www.amazon.com/dp/B00IW9NVTI
========================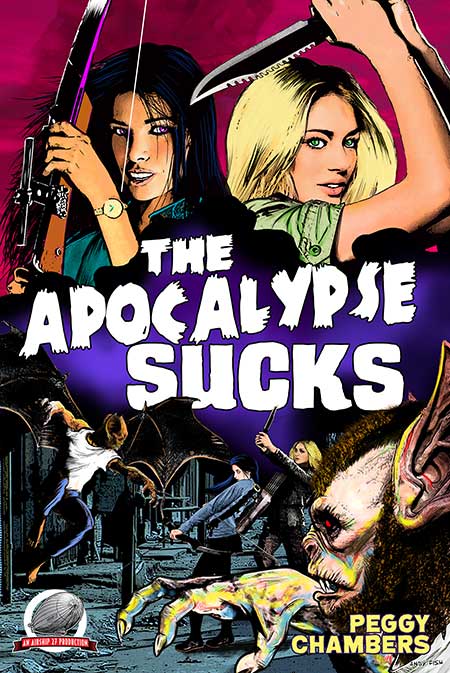 NO APOCALYPSE HANDBOOK
Sandra and Molly were two typical office workers enjoying their lives, which consisted primarily of going to work, shopping and looking for cute guys. Then their world came to a disastrous end brought about by a fast-acting, airborne virus that decimated the the world's population.
Now the girls live in the abandoned office building in which they once worked surrounded by a new and dangerous landscape; one where mutated animals roam the streets and giant birds soar through the empty skies; where frightening humanoid bat creatures have appeared to challenge humans for supremacy of the earth.
What are two attractive, intelligent, single girls suppose to do now…other than merely hunt for food and try to stay alive? Well, there are still malls, albeit much less crowded, and though rare, a few cute guys still out there. So even if the apocalypse sucks, Sandra and Molly are not about to let it cramp their style.
Writer Peggy Chambers offers up a truly unique, twisty adventure with two of the most likeable heroines you'll ever meet. "The Apocalypse Sucks," is a pulp mash-up readers are sure to enjoy from cover to cover.
Link to an interview with interior artist Zachary Brunner: Interview
Createspace POD Link: The Apocalypse Sucks
Kindle Link: The Apocalypse Sucks
Amazon Link: The Apocalypse Sucks
Available as a PDF for just $3.00 by clicking the button below.
=======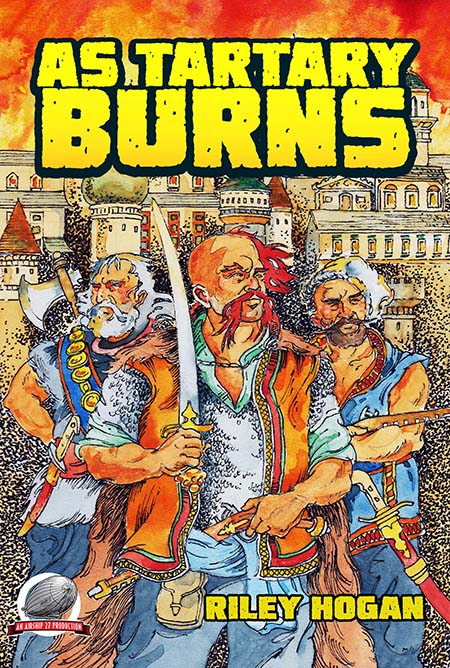 SWORDS AND MAGIC 
 
For generations, the freedom loving Cossacks battled their enemies; the Ottoman Turks and Crimean Tartars for the supremacy of the rugged Steppes. Frustrated by the constant raids of these reckless, horse-riding warriors, Constantinople prepares a major campaign that will end the Cossacks and their way of life forever. 
 
Realizing they are severely outnumbered against such a Turkish reprisal, the Cossack Headsman seeks out the sorcerer Alexsandr with a bold scheme. He wants Alexsandr to enter the realms of magic and enlist the aid of magical creatures of Slavic myth as allies. With the help of his friend, Commander Marko and the battle-hardened Bohun, the wizard must summon all his skills, both martial and arcane, to fulfill his sacred mission and in doing so save his people. 
 
In the grand tradition of Robert E. Howard and Harold Lamb, writer Riley Hogan spins a tale of tested comrades about to risk all in a dangerous quest that, if they survive, could lead to the greatest victory in Cossack history.
Createspace POD Link: https://www.createspace.com/4622778
Kindle Link: As Tartary Burns
Amazon Link: As Tartary Burns
Available as a PDF for just $3.00 by clicking the button below.
***
Zeppelin Tales
The Golden Era of the airship was the 1930s, the same period as that of the pulps and it is no surprise their romantic images would inspire pulp writers of the time. The original monthly, ZEPPELIN STORIES, was produced solely to highlight these magnificent flying machines in exciting, colorful and fast-paced adventures. Now, Airship 27 Productions, itself bearing the image of these high-flying cruisers, launches a brand-new series devoted to airships.
===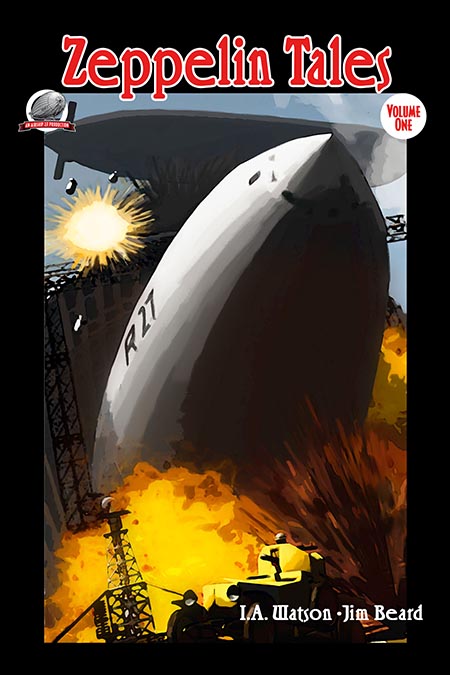 In this debut volume you will thrill to the exploits of Jim Beard's new hero, Tracer Talbot, as he encounters a mysterious pirate airship and her crew. While writer I.A. Watson sets off on an aerial adventure aboard an experimental Zeppelin built to explore the skies of an alien dimension. Join us as AIRSHIP 27 – ZEPPELIN TALES Volume One soars into the stratosphere of the imagination on this, its maiden flight.
Createspace POD Link: Zeppelin Tales
Kindle Link: Zeppelin Tales
Amazon Link: Zeppelin Tales
Available as a PDF for just $3.00 by clicking the button below.
***********
The Crimson Mask
Veteran Police Sergeant Clarke is gunned down by hoodlums, shot in the back of the head. As he lay dying, a rush of blood to his face formed a macabre mask, a crimson mask! When his son, Doctor Robert "Bob" Clarke, saw that strange stigmata he interpreted it as a sign, inspiring him to become his father's avenger, the Crimson Mask!
***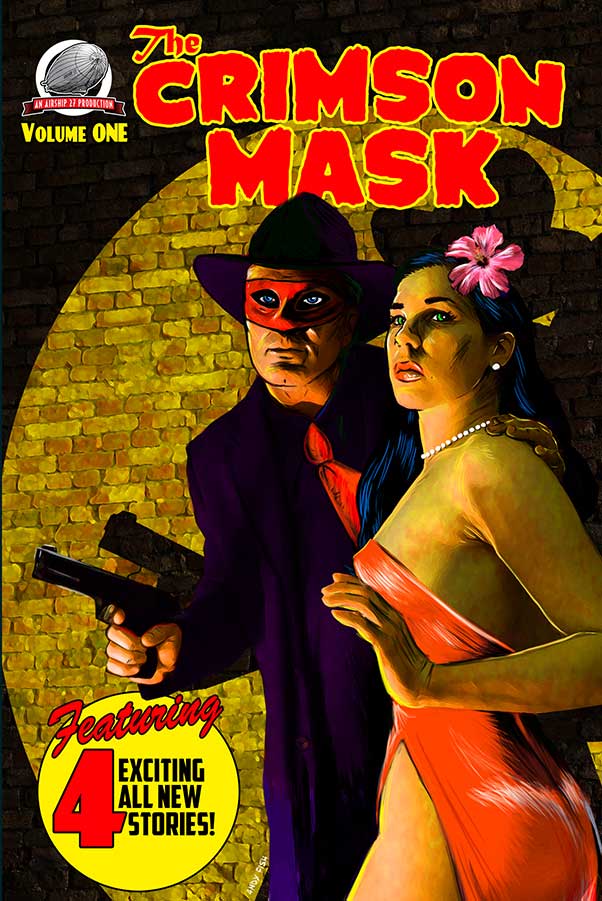 Once again Airship 27 Productions digs into the dusty vaults of long forgotten, second tier pulp heroes to revitalize another great character in brand new, exciting adventures. Writers J. Walt Layne, Terrence McCauley, C. William Russette and Gary Lovisi took on the challenge of creating new, bizarre mysteries for the pharmacist turned crime-fighter and in doing so have put together a terrific collection of fast paced pulp action echoing the thrills of the original classics.
Aided by retired Police Commissioner Warrick, his former college roommate David Small and lovely nurse Sandra Gray, the Crimson Mask must hunt down the villainous distributors of tainted heroin, stop an invisible thief, learn who ignited the latest city gang war and solve the mystery of a killer targeting his father's allies.
Hold on to your fedoras, jump on the running board and get ready for blazing thrills galore, pulp fans, as the Crimson Mask is back!
Createspace POD Link: The Crimson Mask
Kindle Link: The Crimson Mask
Amazon Link: The Crimson Mask
Available as a PDF for just $3.00 by clicking the button below.
===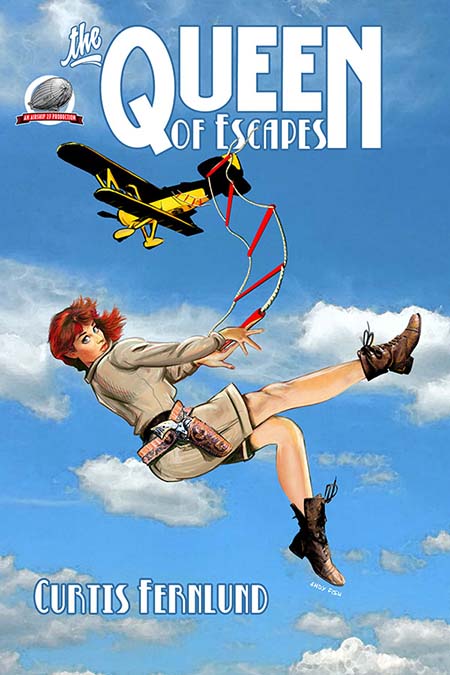 The time is 1935. After a decade of fame as the Queen of the Serials, Hollywood actress Gloria Swann is dismayed to see her box-office numbers dwindling with each new production. Desperate to reclaim her popularity, she bankrolls her own film project; an over the top jungle adventure to be shot on location in the wilds of the Amazon rainforests of Brazil. 
 
After the crew and cast arrive at their isolated destination, a series of accidents occur threatening the lives of several of the players. The main target of these unexplained mishaps is Swann's younger stunt double, Angela Morgan. She suspects there are evil forces lurking in the jungle that threaten their safety. Her only ally in this belief is veteran stunt coordinator Karl Braun. When Gloria Swann mysteriously disappears, Angela may be the only hope the Queen of Escapes has to survive. 
 
Writer Curtis Fernlund's homage to the classic film serials of yesterday is a rousing, fast paced adventure that speeds from one danger-filled cliffhanger to the next. James Lyle provides marvelous interior illustrations and Andy Fish captures all the fun in his gorgeous cover painting, packaged and designed by Rob Davis.
Createspace POD Link: The Queen of Escapes
Kindle Link: The Queen of Escapes
Amazon Link: The Queen of Escapes
Available as a PDF for just $3.00 by clicking the button below.
====
Nightbreaker; a radio star turned vigilante, he exist in a strange limbo world. The beautiful Dreamcatcher who bends all magic to her will. The mysterious Ferryman, a living conduit to the world beyond! And their leader, Black Talon, the embodiment of the unfettered fury of the African Veldt...stalking a jungle of concrete and glass!
Together they are The Shadow Legion, a secret alliance of mystery men and women who battle the fantastic threats that can tear apart the metropolis they call home!
---
Shadow Legion: New Roads to Hell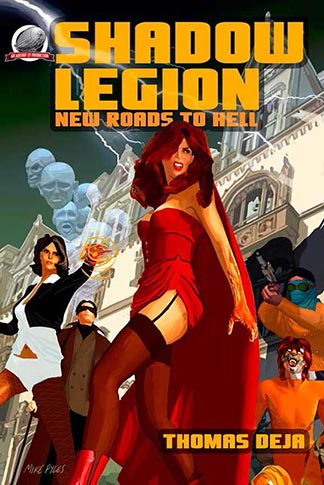 WELCOME TO NOCTURNE, FLORIDA
There has always been something strange about Nocturne, Florida: the City That Lives by Night. It is an entertainment nexus luring tourist from around the world to its night clubs, music venues and other, more adult entertainment venues. But there is a darker side to which these carefree revelers never see; one of dark doings, violence and eldritch evil.
Now a new sinister force threatens Nocturne and only a handful of unique, gifted beings can protect the city's innocent.

Tthey are The Shadow Legion, a secret alliance of mystery men and women who battle the fantastic threats that can tear apart the metropolis they call home!

Their saga begins here in New Roads To Hell, a gripping novel by Thomas Deja that reveals the secret origins of Nightbreaker and Ferrymen, and features the menace of Rose Red, a crimson haired devil with a talent for murder!
Createspace POD Link: Shadow Legion: New Roads to Hell
Kindle Link: Shadow Legion: New Roads to Hell
Amazon Link: Shadow Legion: New Roads to Hell
Available as a PDF for just $3.00 by clicking the button below.
====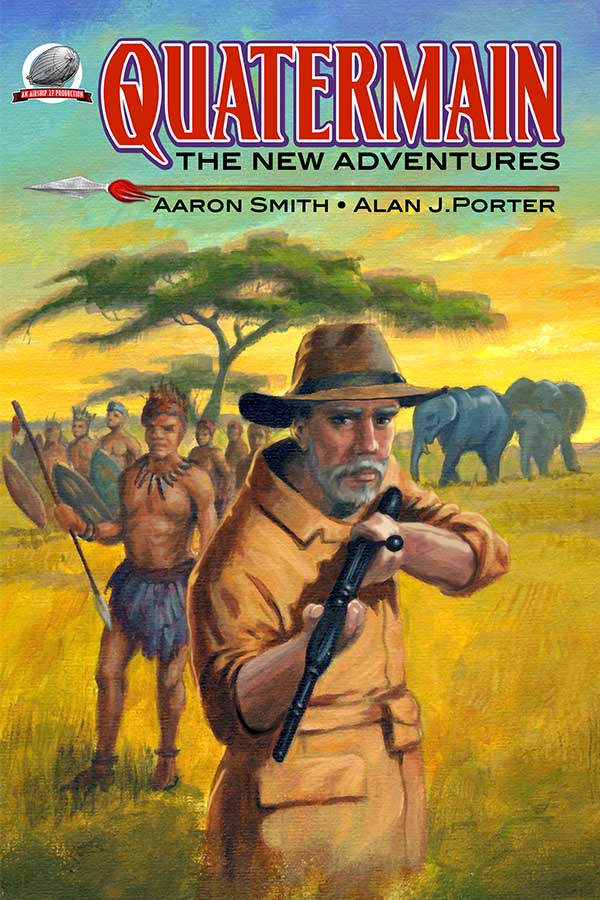 A CLASSIC HERO REBORN 
 
British adventure writer, H. Rider Haggard's most popular fictional character was Alan Quatermain, the irascible African big game hunter. As the hero of the classic KING SOLOMON'S MINES, Quatermain immediately fired the imagination of readers across the world and created an instant demand for more of his adventures. 
 
Airship 27 Productions answers the on-going demand by presenting two brand new Alan Quatermain novellas each filled with a host of suspense, action and exotic African locales. When a French river boat pilot discovers elephant ivory suffused with gold, it sends the expert guide on a quest find a fable elephant's graveyard to learn answer to the "GOLDEN IVORY" by Alan J. Porter.  
 
Next, a naïve American lad follows Quatermain deep into the jungle to find eight missing white women only to uncover an ancient evil capable of possessing the bodies of its victim's in Aaron Smith's chilling "TEMPLE OF LOST SOULS." 
 
Here are complete tales that will thrill pulp fans and introduce a whole new generation to one of the most famous adventure heroes of all time; H. Rider Haggard's Alan Quatermain.
Createspace POD Link: https://www.createspace.com/4323689
Kindle Link: Quatermain-The-New-Adventures
Amazon Link: Quatermain: The New Adventures
Available as a PDF for just $3.00 by clicking the button below.
>
===
AIRSHIP 27's CHILDREN'S BOOKS!
Jamie and the Fish-Eyed Goggles
Youngsters Jamie Ryan and Kristi LeClerc find a set of magical goggles while visiting the library. The two discover that the colorful, oddly shaped goggles show "the heart's desire" of the person being viewed when looked through. Excited at their discovery the two travel their neighborhood to learn what their neighbors and parents desired to do with their lives.
Ron Fortier has written a delightful and fun story for kids and adults alike illustrated with energy and bright colors by artist Gary Kato.
Amazon Link: Fish-Eyed Goggles
Kindle Link: Fish-Eyed Goggles
CreateSpace eStore Paperback for $10.99: Fish-Eyed Goggles
Available as a PDF ebook for only $2! Use the link below to order.
===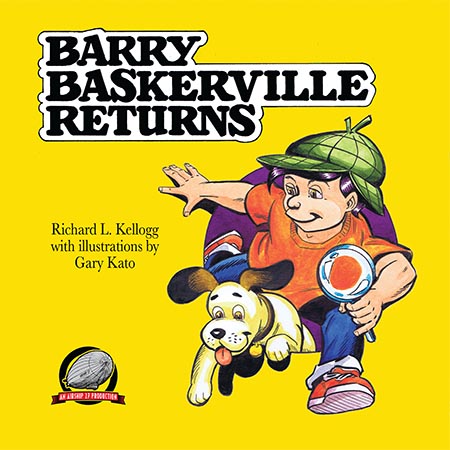 Barry Baskerville, the boy who wants to be just like Sherlock Holmes, returns for more trouble and fun!
Amazon Link: Barry Baskerville Returns
Kindle Link: Barry Baskerville Returns
CreateSpace eStore Paperback for $10.99: https://www.createspace.com/4735509
Available as a PDF ebook for only $2! Use the link below to order.
Barry Baskerville Solves a Crime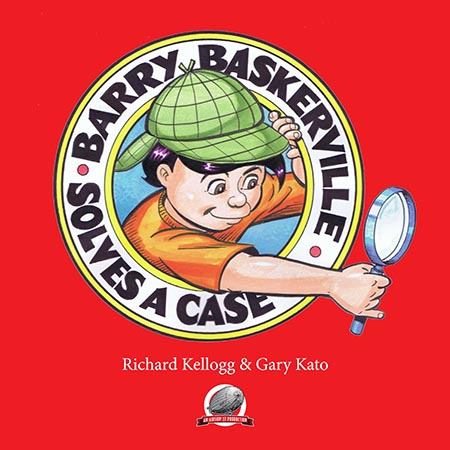 8.5" x 8.5" (21.59 x 21.59 cm)
28 pages
Juvenile Fiction / Mysteries & Detective Stories

"Barry Baskerville was one of the strangest boys in his hometown of Watsonville. 
Most of the boys in his class wanted to be astronauts, truck drivers, or cowboys. 
Barry thought that was silly. He was determined to become the world's most famous 
detective. He wanted to be just like Sherlock Holmes." 
 
Thus begins "Barry Baskerville Solves a Case." A precocious school age boy who uses observation and deduction to befuddle and impress his classmates, teachers and parents in a tale brightly illustrated by artist Gary Kato intended for young readers (age 7-10).
Amazon Link: Barry Baskerville Solves a Case
Kindle Link: Barry Baskerville Solves a Case
CreateSpace eStore Paperback for $9.99: https://www.createspace.com/4232000
Available as a PDF ebook for only $2! Use the link below to order.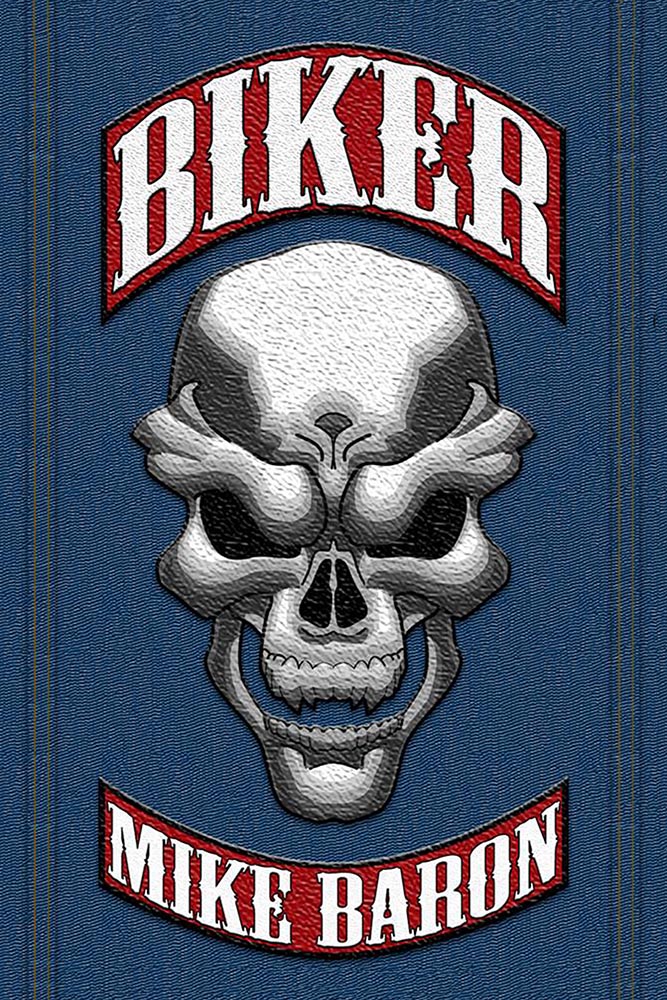 From Michael Baron, the award winning creator of Nexus and Badger, comes a tale of terror and suspense set against the backdrop of the Outlaw Biker culture.
Josh Pratt is an ex-con turned private investigator. A woman dying of cancer hires him to find the son she gave up as a baby. The child's father is a sadistic sociopath named Moon who has vowed to kill her for abandoning them.
Josh is the BIKER, caught up in a race for survival against a human monster on the road between heaven and hell at the end of which lies either salvation or damnation. Baron spins a tale of unrelenting suspense and horror that moves across his narrative landscape like the roar of a chopper's engine. Creating memorable characters and authentic backgrounds, this is an amazing, quality crime thriller unlike anything you've ever read before. The man who shook up the comic industry with his revolutionary stories now turns his limitless skill and imagination to the world of crime fiction and the result will blow you away.
Featuring illustrations by artist Joseph Arnold and designed by award-winning Art Director, Rob Davis, BIKER is a punch-to-the-gut reading experience even the most jaded thriller fan will be cheering.
"Hard-boiled. Hard-edged. Hard-core. Hard to put down until you get to the last page."
Charles Saunders, author of Imaro and Damballa.
Amazon Link: Biker
Kindle Link: Biker
CreateSpace eStore Paperback: https://www.createspace.com/4204985
Available as a PDF ebook for only $3! Use the link below to order.
••••••••••••••••••
Jethro Dumont was a jaded, rich American who hungered to find purpose in this world. His search for self-knowledge and fulfillment led him to a secluded Buddhist monastery high in the Tibetan Himalayas. There Dumont studied the mysteries of the orient at the same time learning to accept the non-violent tenets of this ancient and venerated philosophy. By the time he returned to America, he was a changed man; one possessed with mental clarity and unique, mystic abilities beyond the understanding of normal men. Now, with the aid of his Buddhist companion, Tsarong, he assumes the identity of a new, eerie crime-fighter, The Green Lama!
===
Green Lama-Mystic Warrior
Published by arrangement with Kendra Crossen Burroughs, Executor of the Estate of Kendell Foster Crossen. The Green Lama adventures by Kendell Foster Crossen (as by Richard Foster) first appeared in Double Detective magazine, April 1940, copyright ©1940 by Popular Publications, Inc. Copyright renewed © 1967 and assigned to Kendra Crossen Burroughs.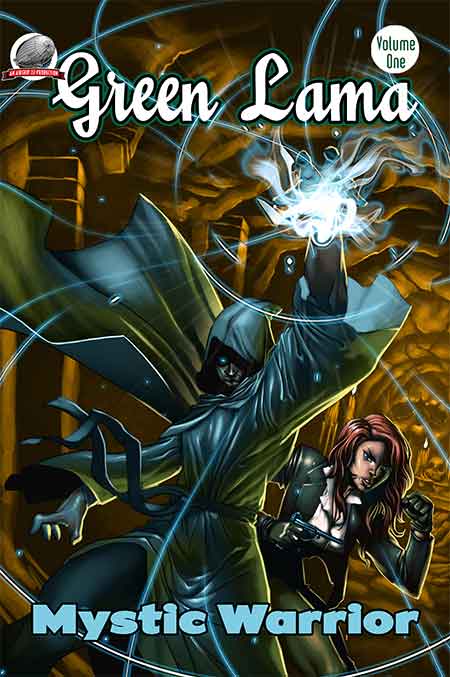 For years the exploits of Green Lama have thrilled pulp fans both in his own magazine, in comics and on radio. Now he returns to pulp action in this collection featuring two previous issued classics by Peter Miller and Kevin Noel Olson and two brand new, never before printed adventures by Nick Ahlhelm and Robert Craig. From confronting Nazis in his beloved Tibet to investigating bizarre murders in a Hollywood movie studio, Jethro Dumont's new career is one filled with plenty of action and adventure as the Mystic Warrior strikes again!
Amazon Link: Mystic Warrior
CreateSpace eStore: Mystic Warrior
Available as a PDF ebook for only $3! Use the link below to order.
••••••••••••••••••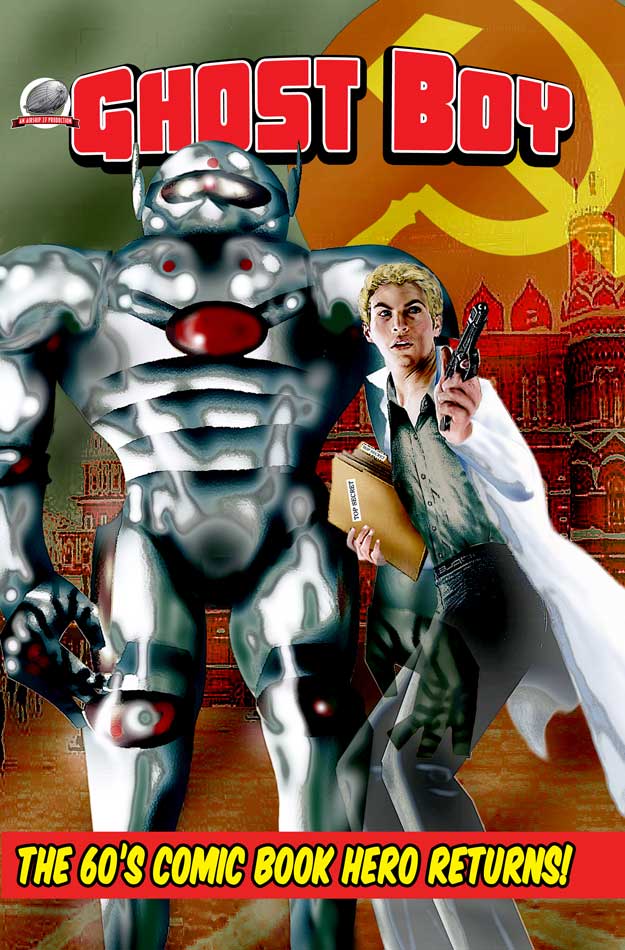 "LOST" COMIC HERO REVIVED
During the 1960s America was locked in a tense Cold War with the Soviet Union, Ian Fleming's James Bond unleashed a spy craze and the Beatles swept across American shores with their version of new Pop-Rock and Roll. Meanwhile American comics had entered into the Silver Age with the birth of Marvel Comics and a resurgence in DC Comics superheroes. Every week new titles seemed to proliferate on drug store magazine spinner-racks.
Now Airship 27 Productions digs for inspiration deep into those long forgotten comic vaults to create an oddball hero, GHOST BOY. Ghost Boy is young Alex Conroy; the top agent of S.O.S. (Science Operational Security) who is possessed with strange superhuman abilities. His best friend is an eight-foot robot called P.O.P.S. (Photoelectric Optimal Protection Sentry).
Writers Terry Alexander, Micah Harris and Andrew Salmon recapture the fun and magic of the 60s in this character and offer up four brand new adventures. As an extra bonus, Ron Fortier and artist Gary Kato tell the origin tale of GHOST BOY in a special nine-page comic which kicks off this thrilling collection, all gathered under a gorgeous cover by Laura Givens.
Sixties era comics fans rejoice, GHOST BOY is here!
Amazon Link: Ghost Boy
Kindle Link: Ghost Boy
CreateSpace eStore: https://www.createspace.com/4176057
Available as a PDF ebook for only $3! Use the link below to order.
---
••••••••••••••••••
On the distant alien planet of Rhajnara a conspiracy created by the facist Khandra Regime is set into motion to overthrow the rightful Rhajni Republic and instigate a policy of ethnic-cleansing. The conspirators are cunning and it seems nothing in the universe can derail their mad apocalyptic scheme. 
 
Nothing that is but three rambunctious Space Marines from the Third Regiment Company E of the United States Space Marines assigned to Rhajnara with the Terran Expeditionary Force. Sergeants Fernado Cortez, Seamus O'Hara and Claudia Akira are the most unlikely trio ever to don jarhead camouflage and become military heroes. To their superiors they are wild, reckless and incessant troublemakers always in the thick of things. Yet their courage, loyalty and devotion to duty prove them to be the toughest Devil Dogs in the Corp. 
 
Now, with the aid of a Medical Corpsman named Makki Doon, a young Felisian native proto-feline humanoid, these three futuristic musketeers are about to become the one factor capable of exposing the traitorous Khandra coup. But to do so they will have to put their lives on the line one more time and risk all to save the day facing off against incredible odds. To save an empire they will truly become…THREE AGAINST THE STARS. 
 
Joe Bonadonna delivers a fast paced, action packed space opera fans of Edmond Hamilton and E.E. "Doc" Smith will not soon forget.
video for Three Against The Stars: http://www.youtube.com/watch?v=xHyv9UL4Vmg&feature=youtu.be
Amazon link: Three Against the Stars
Kindle Link:Three Against the Stars
CreateSpace eStore: https://www.createspace.com/4072461
Available as a PDF ebook for only $3! Use the link below to order.
••••••••••••••••••
The greatest seafaring adventurer of all times returns to the high seas, Sinbad the Sailor!
Born of countless legends and myths, this fearless rogue sets sail across the seven seas aboard his ship, the Blue Nymph, accompanied by an international crew of colorful, larger-than-life characters. Chief among these are the irascible Omar, a veteran seamen and trusted first mate, the blond Viking giant, Ralf Gunarson, the sophisticated archer from Gaul, Henri Delacrois and the mysterious, lovely and deadly female samurai, Tishimi Osara.  All of them banded together to follow their famous captain on perilous new voyages across the world's oceans.
---
Sinbad: The New Voyages Vol. 3 "The Warriors of Forever"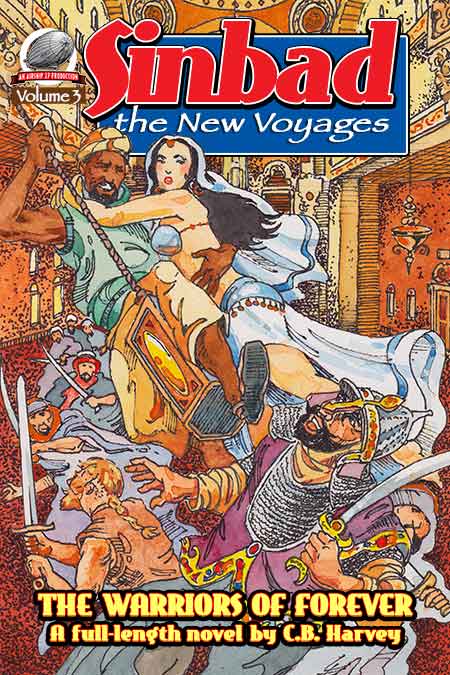 BEWARE! 
The Warriors of Forever 
 
When the undead Warriors of Forever, led by the one-eyed witch, Asentua, attack the peaceful fishing village of the Xubanthali kidnapping the children, it falls upon Sinbad and the crew of the Blue Nymph to come to their aid. Accompanied by the town elder, Al-Bulcar, and Illia, the beautiful daughter of the village shaman, the Blue Nymph is set on a course of dangerous mystery. To locate the fabled demon horde they must first find the elusive Scholars of Bethsea for they alone hold the key to solving the riddle of the evil sorceress and the reason behind her abduction of the villagers' young. 
 
Writer C.B. Harvey spins a fantastic seafaring adventure that will leave readers cheering.
CreateSpace eStore: Sinbad Volume 3
Amazon.com: Sinbad Volume 3 coming soon
Kindle Version: Sinbad Volume 3
Available as a PDF ebook for only $3! Use the link below to order.
---
Sinbad-the new voyages Volume 2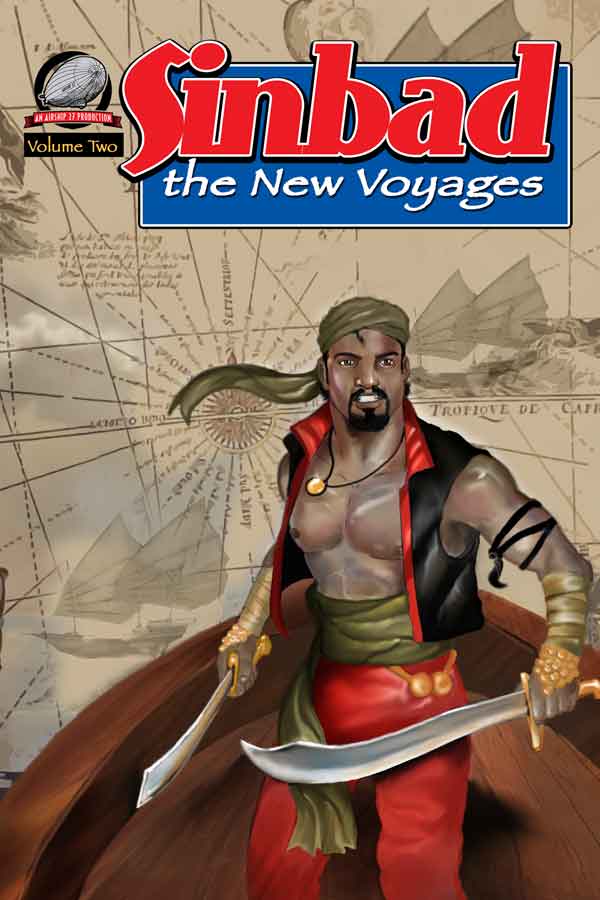 THE BLUE NYMPH SETS SAIL
Pull up anchor, cast off the mooring lines and drop the sail, the good ship Blue Nymph is about to set sail for adventure once again with her famous seafaring captain at the helm.
Airship 27 Productions is thrilled to present the second volume of brand new stories starring the greatest seaman of them all, Sinbad the Sailor and his international crew of daring adventurers. Here is Henri Delacrois, the deadly archer from Gaul, Ralf Gunarson, the strapping young Viking giant, Tishimi Osara the beautiful female samurai and Omar, the irascible first mate. All of them bound together by their love of action and yearning to explore uncharted lands.
Over the horizon awaits treasure, beautiful exotic maidens and monsters beyond imagining. Dare you sign aboard with Sinbad El Ari? If so, then batten the hatches and have your curved blade ready, heart pounding adventure awaits within these pages.
CreateSpace eStore: https://www.createspace.com/4387386
Amazon.com: Sinbad: The New Voyages Vol. 2
Kindle Version: Sinbad: The New Voyages Vol. 2
Available as a PDF ebook for only $3! Use the link below to order.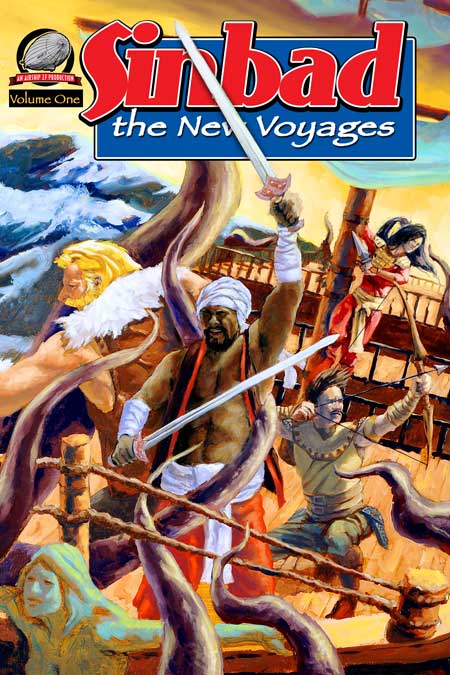 Writers Nancy Hansen, I.A. Watson and Derrick Ferguson offer up three classic Sinbad tales to rival those of legend while adding a familiar sensibility from the cult favorite Sinbad movies of FX master, Ray Harryhausen.  SINBAD – The New Voyages will enthrall and entertain all lovers of fantasy adventure in a brand new way; featuring cover art by Bryan Fowler and twelve black and white illustrations by Ralf van der Hoeven.  So pack up your you traveling bags, bid ado to your loved ones and get ready to sail with the tide as Sinbad El Ari takes the tiller and the Blue Nymph sets sails once more; its destination worlds of wonder, mystery and high adventure.  
Amazon.com: Sinbad: The New Voyages Vol. 2
Also available now at CreateSpace: https://www.createspace.com/3988204
Kindle version: Sinbad
Available as a PDF ebook for only $3! Use the link below to order.
••••••••••••••••••
Captain Action was an action figure created in 1966, equipped with a wardrobe of costumes allowing him to become various Superheroes and comics characters. Captain Action was the Ideal Toy Company's answer to Hasbro's G.I. Joe — although the protagonist dolls of both toy lines were created and designed by the same toy-and-idea man, Stan Weston. Revived as an action figure and comics character in the 2000's, Captain Action takes his first trip into Pulp Adventure in Airship 27's line of New Pulp novels and anthologies.
---
Captain Action-Hearts of the Rising Sun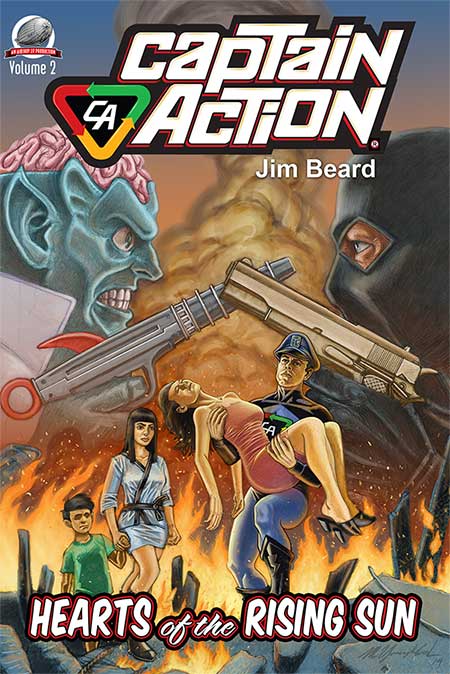 ACTION IN JAPAN! 
 
While on assignment in Japan, Captain Action is haunted by the woman he loved and lost years ago in the underground kingdom beneath Siberia. When she mysteriously begins reappearing during his clandestine mission to witness a newly discovered power source, agent Miles Drake begins to question his own sanity. 
 
Forces are at work to steal two naturally formed energy stones whose limitless power in the wrong hands could destroy the world. When he begins to suspect his alien nemesis, Dr. Evil, is behind these attacks, Drake has to utilize his most daring disguises ever to learn the truth and ally himself with an old vigilante hero from the past. 
 
Now the one and only Captain Action must walk a delicate tightrope between old and new allies while attempting to discover the source of the threat to the Hearts of the Rising Sun. If he fails, mankind is doomed!
Airship 27 Productions – Pulp Fiction For A New Generation ™ & © Captain Action Enterprises, LLC www.CaptainAction.com
Available at Amazon.com for $16.99: Captain Action 2
Kindle version now available for only $4.99: Captain Action 2
Createspace version: Captain Action 2
I am mortified that a typo-riddled version of the book got past me. The un-corrected file was posted instead of the proofread version. To assure that all WAS corrected I have gone over the file again and made the corrections given by the proofreader completely.

Now, to compensate those who purchased a bad version I have created a discount code for the book so anyone who wants a new, corrected, copy can get one at the absolute rock-bottom price. If those folks will send me a photo of the back cover of the book I will send them a discount code for $9.29 off the listed price. In addition, I've lowered the Kindle match price to $.99. And finally, if anyone wants a FREE PDF copy of the corrected book they need only send me a photo of that back cover.
Send the photos to: robmdavis@me.com for your discount code or free PDF.
Available as a PDF ebook for only $3! Use the link below to order.
---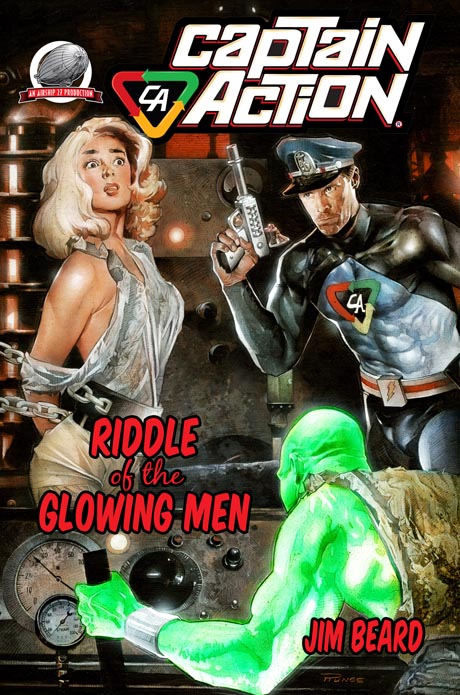 One of the most popular heroes of the 1960s returns in his first ever full-length novel. Super-spy and master of disguise, Miles Drake, aka Captain Action investigates the "Riddle of the Glowing Men," by writer Jim Beard. Foreign assassins are sent to kill Captain Action and though he manages to defeat them, it is their lifeless bodies that pose the greater mystery as they give off a green, glowing radiation.
Teamed with a beautiful and seductive Russian Agent, Captain Action travels to the barren, frozen wastelands of Siberia where the secret behind the glowing men lies buried in a fantastic, lost underground world. It is a secret also pur- sued by his most dangerous nemesis, the insidious Dr. Evil. What is this strange power hidden beneath the earth that could destroy all of mankind and who will unlock its mysteries first?
"Riddle of the Glowing Men," is a classic pulp thriller packed with enough intrigue, daring escapes and breakneck adventure to fill a dozen books. Featuring a stunning cover by artist Nick Runge and interior illustrations by award winning artist, Rob Davis, it presents a well loved hero to a new audience eager to experience his special brand of two-fisted battling, Captain Action style!
Airship 27 Productions – Pulp Fiction For A New Generation ™ & © Captain Action Enterprises, LLC www.CaptainAction.com
Available at Amazon.com for $16.99: http://www.amazon.com/Captain-Action-Riddle-Glowing-Men-Beard/dp/0615671381/ref=la_B004UWVOPE_1_1?ie=UTF8&qid=1346537664&sr=1-1
Kindle version now available for only $4.99: http://www.amazon.com/Captain-Action-Riddle-Glowing-Men-ebook/dp/B0091ND6VW/ref=tmm_kin_title_0?ie=UTF8&qid=1346537664&sr=1-1
Available as a PDF ebook for only $3! Use the link below to order.
••••••••••••••••••••••••••••••••••••••••••••••••••
TALES OF THE SOUTH SEAS In the middle of the South SeaS is THE island of Motugra, so named by the natives. It has the only deep water port in this island chain. On Motugra you'll find THE HANGING MONKEY, an inn and bar owned and operated by Irish ex-patriot Corky O'Brien. Here gather some of the most colorful rogues, scalawags and pirates ever to ply the trade routes of the Pacific during the late 1930s.
Tales from the Hanging Monkey Vol. 1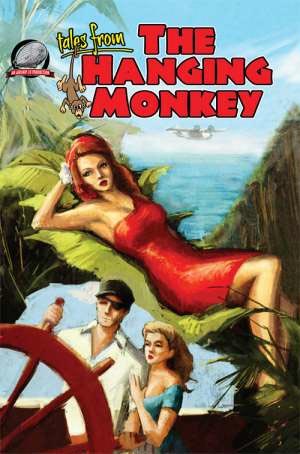 Enter and meet Khuna, the bar's bouncer and former headhunter. Miko, the slim and beautiful Chinese girl with the mysterious past. One eyed Captain Nick Fortune, owner of the schooner Fortune's Folly and air freight pilot, Jimmy Dolan. And don't forget ace reporter, the lovely blond Grace Thomas. All of these characters spring from the mind of writer Bill Craig as homage to the classic pulp island stories of yesterday. Along for the ride, Craig is joined by Derrick Ferguson, Joshua Reynolds and Tommy Hancock. Here are four fast paced, island adventures guaranteed to whisk your imagination to tropical paradises of warm breezes, swaying palm trees and crystal blue waters. Where danger can lurk behind the smile of an alluring native girl and a man's fists are as important as his wits. So hitch up your gunbelt, cock your pilot's cap and swing the door's open…Welcome to The Hanging Monkey! AIRSHIP 27 PRODUCTIONS – PULP FICTION FOR A NEW GENERATION!
Available at Amazon.com: Tales from the Hanging Monkey
Kindle version: Tales from the Hanging Monkey
Createspace: Tales from the Hanging Monkey
Available as a PDF ebook for only $3! Use the link below to order.
••••••••••••••••••••••••••••••••••••••••••••••••••
Sgt. Janus, Spirit-Breaker
Airship 27 Productions is thrilled to present Sgt.Janus – Spirit Breaker by Jim Beard. Part detective, part occultist, Janus is himself a man of mystery whose own past is shrouded and the motivations behind his calling kept hidden.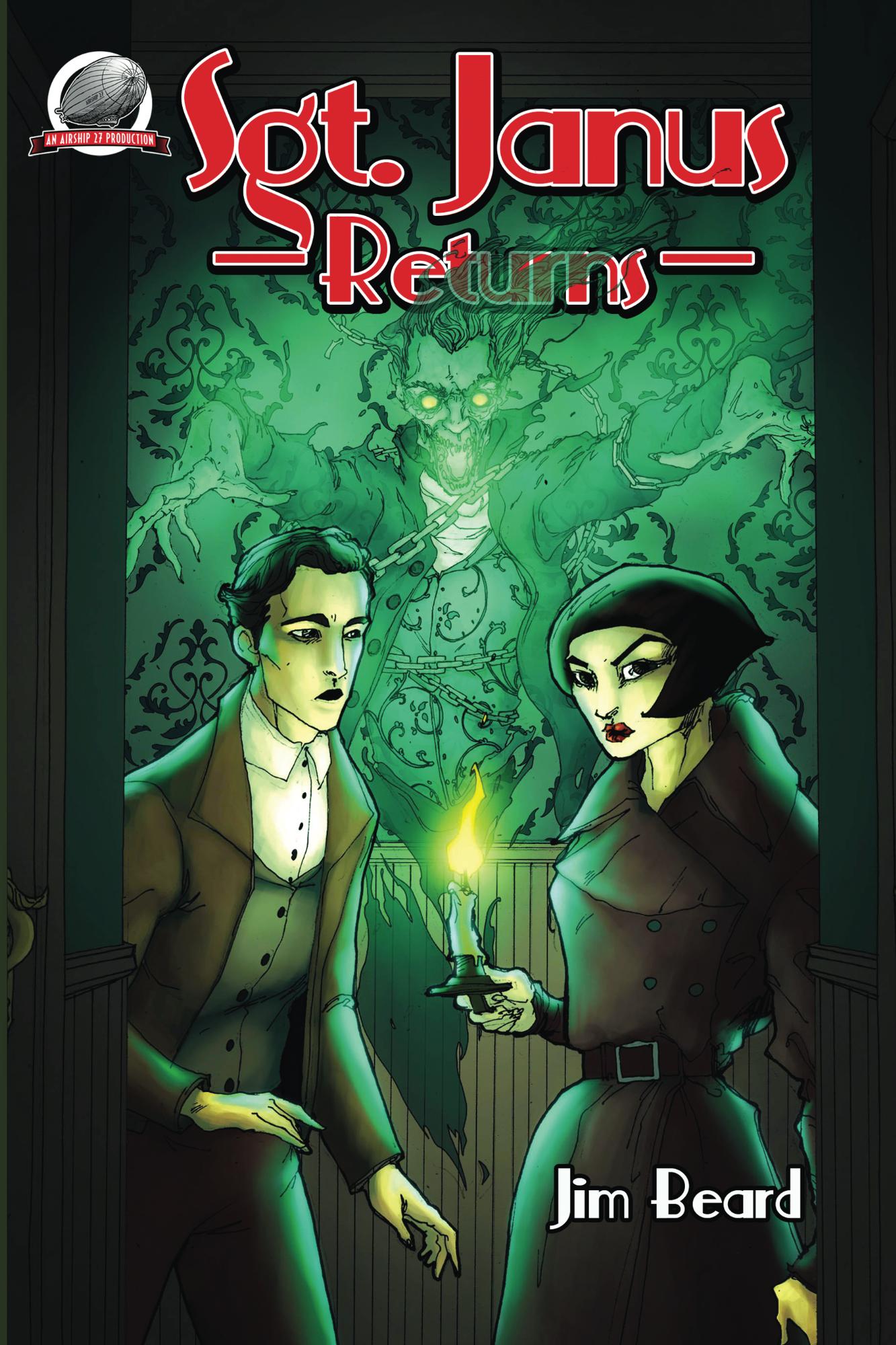 im Beard's original occult investigator, Sgt. Roman Janus, returns in a second all-new collection of suspenseful adventures. Or does he? At the end of the first book, SGT. JANUS – SPIRIT BREAKER, our intrepid hero mysteriously vanished into another realm never to be seen again.  
 
Now, almost a full year later, a dark haired beauty, with no memory of her own identity, suddenly appears and begins assuming Janus' role in seeking out troublesome poltergeist and laying them to rest. Aided by a young clerk named Joshua, this mysterious Lady Janus possesses personal knowledge known only to the missing occultist. Who is this strange, daring woman? Is she Janus reincarnated? Or is she something even more sinister? 
 
Once again writer Jim Beard turns the entire occult genre upside down as he delivers another eight stories filled with mystery, horror and non-stop action—all driving to a startling finale pulp fans of the weird dare not miss.
Amazon.com: http: Sgt. Janus Returns
Also available now at CreateSpace: https://www.createspace.com/4613204
Kindle version now available: Sgt. Janus Returns
PDF download at only $3.00!:
---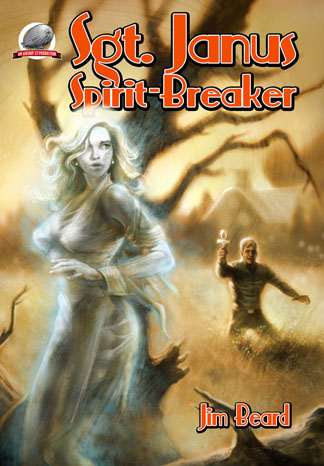 Within this volume you will find eight tales as narrated by Sgt. Janus' clients, each with his or her own perspective on this uncanny hero and his amazing career. Filled with suspense, terror and agonizing pathos, each a solid mesmerizing journey into the unknown world beyond.
Featuring a cover by artist Jeff Herndon and eight stunning illustrations by Eric Johns, Sgt.Janus – Spirit Breaker is the first in a new series by one of today's leading stars in New Pulp Fiction.
"…Beard's fiction is anything but pat and routine. While he may deliberately conjure the spirits of authors of Victorian and Edwardian occult fiction before him, Beard's prose is fresh and entirely modern in his, at times, frank and unsettling tales of the wages of his characters' past sins. Each story breezes by and like the best tales told round the campfire, it leaves the reader hungry for more." William Patrick Maynard (The Terror of Fu Manchu & The Destiny of Fu Manchu.)
Amazon.com: http: Sgt. Janus-Spirit Breaker
Also available now at CreateSpace: https://www.createspace.com/3881169
Kindle version now available: Sgt. Janus-Spirit Breaker
PDF download at only $3.00!: