•WELCOME to AIRSHIP 27's PDF Hangar where adventure takes flight! Here at HANGAR 27 we are dedicated to bringing the finest pulp action novels and anthologies by today's new pulp scribes directly to you in the universal PDF format and Print-On-Demand (POD) trade paperback. Read the best in today's Pulp Fiction on your Kindle or iPad or any other device that reads Adobe PDF files.
•Buy your book(s) today, and read it today for the low, low price of only $3.00 at our PDF store!
• Airship 27 Productions books are all available at Amazon.com as printed books starting at only $16.99 for the latest editions. Links for Airship 27 titles at Amazon are at each book's listing in our online catalog.
•So buckle up tight, cast your eyes to the clouds and get ready for lots of pulse pounding thrills.

•Use the links at left to access our catalog.
•SPECIAL NOTE- If you have problems with your order of any kind, please email the webmaster- Rob Davis. Contact us right away and we'll get your book to you pronto!
Thank you for choosing to support Airship 27!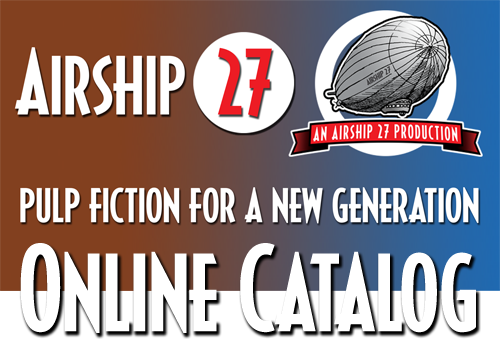 Click on image above or the link to the left to go to the online catalog. Latest releases are listed in the left margin below the links.
---------------------------------
Watch for announcements in this space for future appearances of the Airship 27 Crew. The year 2015 will have them visiting more conventions than ever!
•Join the Airship 27 Productions team of Ron Fortier and Rob Davis in Chicago's suburb Lombard, Il at Windy City Pulp and Paper Show April 17-19, 2015!
••••••••••••••••••••••••••••••••••••••••••••••••••