ABOUT THE ARTIST:
Beginning in 1986 illustrating role-playing game modules for Mayfair Games (DC Heroes role playing game) and Iron Crown Enterprises (Champions super-heroes role playing game) Rob Davis has been a working professional artist/illustrator. His first "hit" comics work was on the Adult-oriented comic book Scimidar from Malibu Comics. Also for Malibu he penciled and inked the historic fantasy character Merlin.
At about this same time Rob became associated with Innovation Comics' Dave Campiti where, with writers Michael Vance and R.A. Jones, the Sci-Fi/Suspense Series Straw Men was published. Rob credits this series with helping him to hone his professional "chops" serving him well in later collaborations. Rob and Michael Vance also collaborated on a prequel to "20,000 Leagues Under the Sea" called "Captain Nemo" at Rip Off Press (now available as a novel and a Graphic Novel reprint of the completed comics story at the Airship 27 Hangar site and Redbud Studio sites respectively).
Wishing to widen the scope of his professional credits, Rob worked on an issue of Maze Agency (a critically acclaimed "Thin Man" type of Mystery -Detective series) for Innovation Comics, eventually convincing editors there to allow him to draw Quantum Leap (based on the popular Science Fiction television series). This became a stepping stone to work on DC Comics' two Star Trek comic books ( Star Trek: The Next Generation, and Star Trek with Kirk, Spock, McCoy, and the original Enterprise Crew).
During this same period Rob was assigned some adaptation work for Marvel Comics in Hanna Barbera's Pirates Of Dark Water Saturday-morning cartoon sword and sorcery/fantasy adventure show. He penciled the last three issues of the 9 issue mini-series.
With the news that Malibu Comics had acquired the rights to then new series Star Trek: Deep Space Nine, it was only natural that Rob renew his working relationship with Malibu. For nearly three years he did Mini-Series and fill-in work on Deep Space Nine. Before Paramount Pictures, owners of the Star Trek franchise, decided to reexamine their licenses it was announced that Rob Davis would be the regular penciler on Malibu's aborted Star Trek: Voyager comics adaptation (all the Star Trek titles have moved twice since then; first to Marvel Comics. They are now a IDW Comics).
Rob did work on various Video Game design projects as well as comics stories for Caliber—most notably Robyn of Sherwood #4 with writer Paul Storrie (a "reboot" version of the mini-series with a re-drawn first 3 chapters and a new cover now available via Redbud Studio at http://www.indyplanet.us/comics/83081), and Legends of Camelot: Merlin with writer Jeff Limke), Sundragon comics, and Arrow Comics : Camelot's Last Knight, again with Jeff Limke).
From April of '98 to the Fall of that same year Rob worked part-time as a Graphic Designer for a Mid-Missouri silkscreening company (Missouri Cotton Exchange) working on a wide variety of projects. Rob has design work for GoComo, Columbia, Missouri's transit department (from which he retired as a bus supervisor in 2014), creating various maps for the department's website and for proposals to the City Council for re-routing in 2010 and a complete overhaul of the system in 2013.
Rob and Ron Fortier have collaborated on the graphic novel entitled Daughter of Dracula that is now available (see the cover in the left-hand column) and designing and illustrating a number of prose novels for Airship 27 for which Rob is partner and Art Director with Ron. Recently Rob has also dipped his toe in the comic book self-publishing waters with the above-mentione Daughter of Dracula, Brother Bones: Bullets of Jade, and Secret Agent "X" all available from the online comic book store, IndyPlanet.com. Check the catalog at: Redbud Studio Comics where the list of available comics grows regularly including the full-color comic Spirit of Route 66 conceived, illustrated and partially written by Rob.
Rob, his wife (Theresa) and two offspring (Rachel and Ryan) live in Central Missouri near Columbia, home of the University of Missouri just two hours' drive from either Kansas City or St. Louis, Missouri.
---
---
SOME ITEMS AVAILABLE, SEE BELOW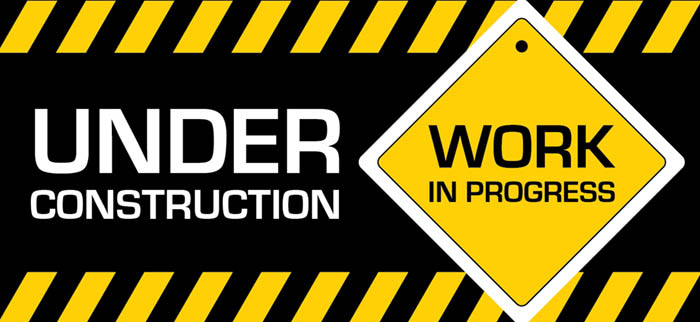 Hello and welcome to my Virtual Artists Alley Shop! Here you'll find links to purchase books, comics and prints directly from me or from Amazon.com. Images and links below:
•SPECIAL NOTE- If you have problems with your order of any kind, please email the webmaster- Rob Davis. Contact us right away and we'll get your item to you pronto!
AVAILABLE NOW:
ORIGINAL ART COMISSION FORM (click on image or the link below)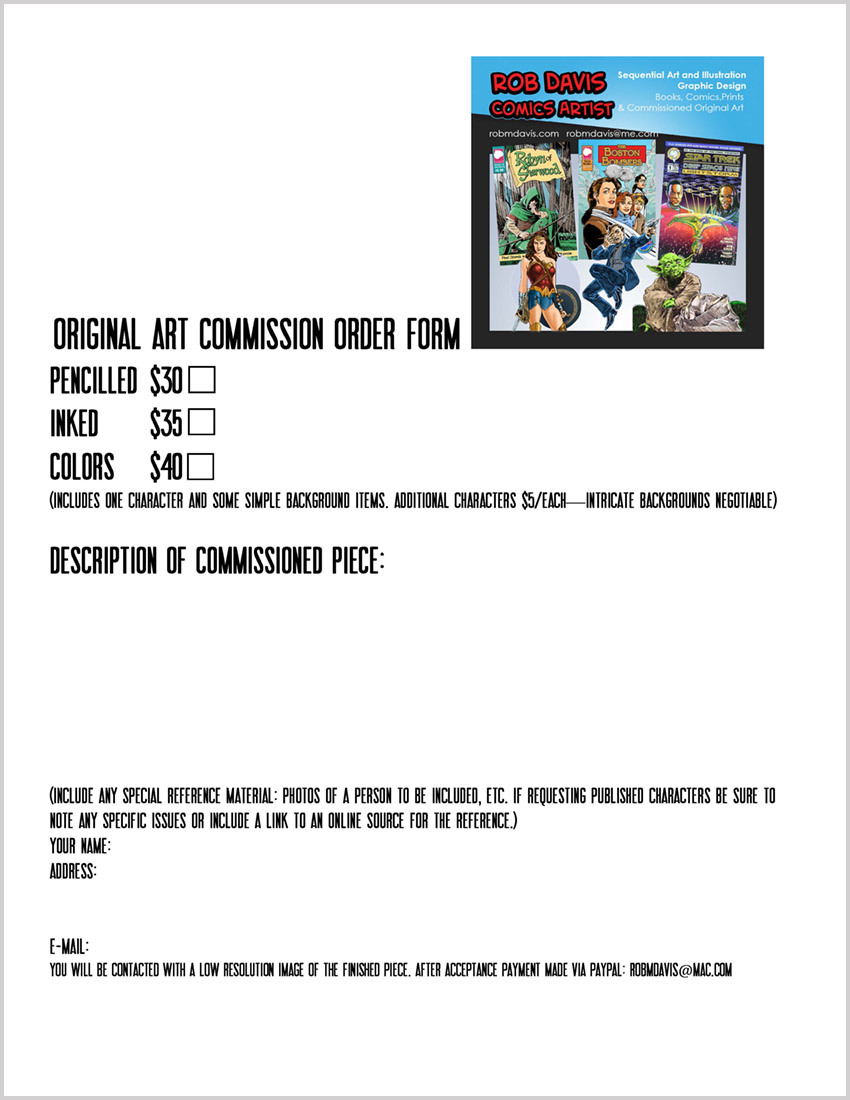 Link: Zipped PDF form Download and email to: Rob Davis
=====
With "The Dead Sheriff: Holster Full of Death" veteran pulp writer Fred Adams Jr. has written a fast-paced weird western thriller featuring the characters created by the late Mark Justice adding to the saga of the west most bizarre hero, the Dead Sheriff. Airship 27 Art Director Rob Davis provides the nine black and white interior illustrations and Chris Rawding the truly beautiful cover. A special limited collector's edition of the book debut at the recently held Pikeville Comic & Toy Collection in Kentucky. The first copy was presented to Mrs. Norma Kay Justice, Mark's widow. And now it has the distinction of officially being the company's grand 200th release!
Created for the 2019 Pikeville, Kentucky Comic and Toy Convention this limited-edition cover by Rob Davis is available while supplies last for $22.35 including Priority Mail shipping! See this link. Other books illustrated by Rob Davis in the column at left.
==========
COMING SOON! (under construction):
Color PRINTS (8.5" x 11" signed, postage paid $8/each via PayPal)
Color POSTERS (11" x 17", signed postage paid $15/each via PayPal) email enquiries welcomed
Comic Books (as priced)